Who is Building Farmers in the West For?
Farmers who want to start a market farm enterprise
Farmers who have a market farm business but have farmed less than10 years
Farmers who desire to improve their business management & marketing skills
Farmers who would like to network closely with other market farm producers
Farmers who recognize the need to plan carefully and develop a farm business plan
Farmers who would like to market directly to consumers to chefs and to local wholesale or retail firms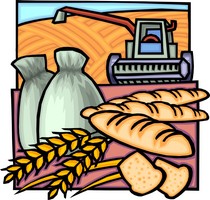 Farmers Teaching Farmers

The Oregon "Building Farmers" program builds farm community and farmer capacity through classroom and experiential learning for beginning farmers (farmers who have less than 10 years of farming experience). The programs consist of a series of classes designed to help potential or very new farmers explore farming as a business and to provide intermediate and experienced farmers with tools and ideas necessary to refine and enhance their strategic planning, business management, and direct marketing skills.
Why Now?

The local food movement is growing in Oregon.
Local farmers' markets are thriving and can provide an excellent inroad for new farmers.
To take their farming operation to the next level, farmers need to enhance their business and marketing skills.
Farmers learn from successful producers about what it takes to market locally.
Farmers can make the most of their opportunities by exploring more ways to add value to their existing products, such as on-farm processing, community-supported agriculture (CSA), or agritourism.
Farmers must continually monitor and revise their farm business plans to remain competitive.
Farmers are always more successful when they network with other growers in their region.


For More Information
Bart Eleveld, Ph.D., Extension Economist
Ballard Extension Hall 213
Corvallis, OR 97331-3601
541-737-1409 | bart.eleveld@oregonstate.edu
Kent Fleming, Ph.D., Extension Economist
541-285-5678 | kent.fleming@oregonstate.edu
Nick Andrews, Metro Small Farms Agent
503-678-1264, x149
nick.andrews@oregonstate.edu
---
Oregon State University Extension programs are available to all without discrimination.


Began as a regional partnership to build community and capacity among a new generation of direct market farmers and local food systems.
For additional information, contact:
Dawn Thilmany McFadden
(970) 491-7220 dawn.thilmany@colostate.edu
or
Jo Ann Warner
(509) 477-2168
warnerj@wsu.edu

Initially funded by the USDA Beginning Farmers and Ranchers Development Program (grant award number 2009-49400-05877).